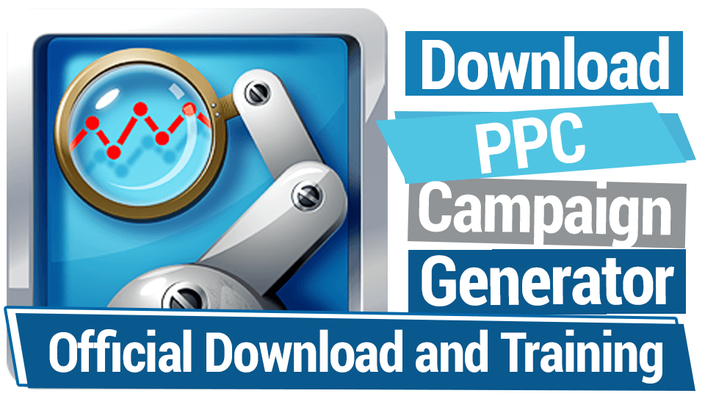 PPC Campaign Generator Software
Google Ads and Bing Ads Campaign Creation Software for Windows
What is PPC Campaign Generator?
---
PPC Campaign Generator is software for Windows machines that provides powerful tools and a step-by-step process for building highly relevant Google Ads and Bing Ads paid search campaigns quickly and easily.
This software is used by PPC professionals that work at digital agencies, entrepreneurial digital marketers, small business owners, affiliate marketers, and beginners that have never built a paid search campaign in their life.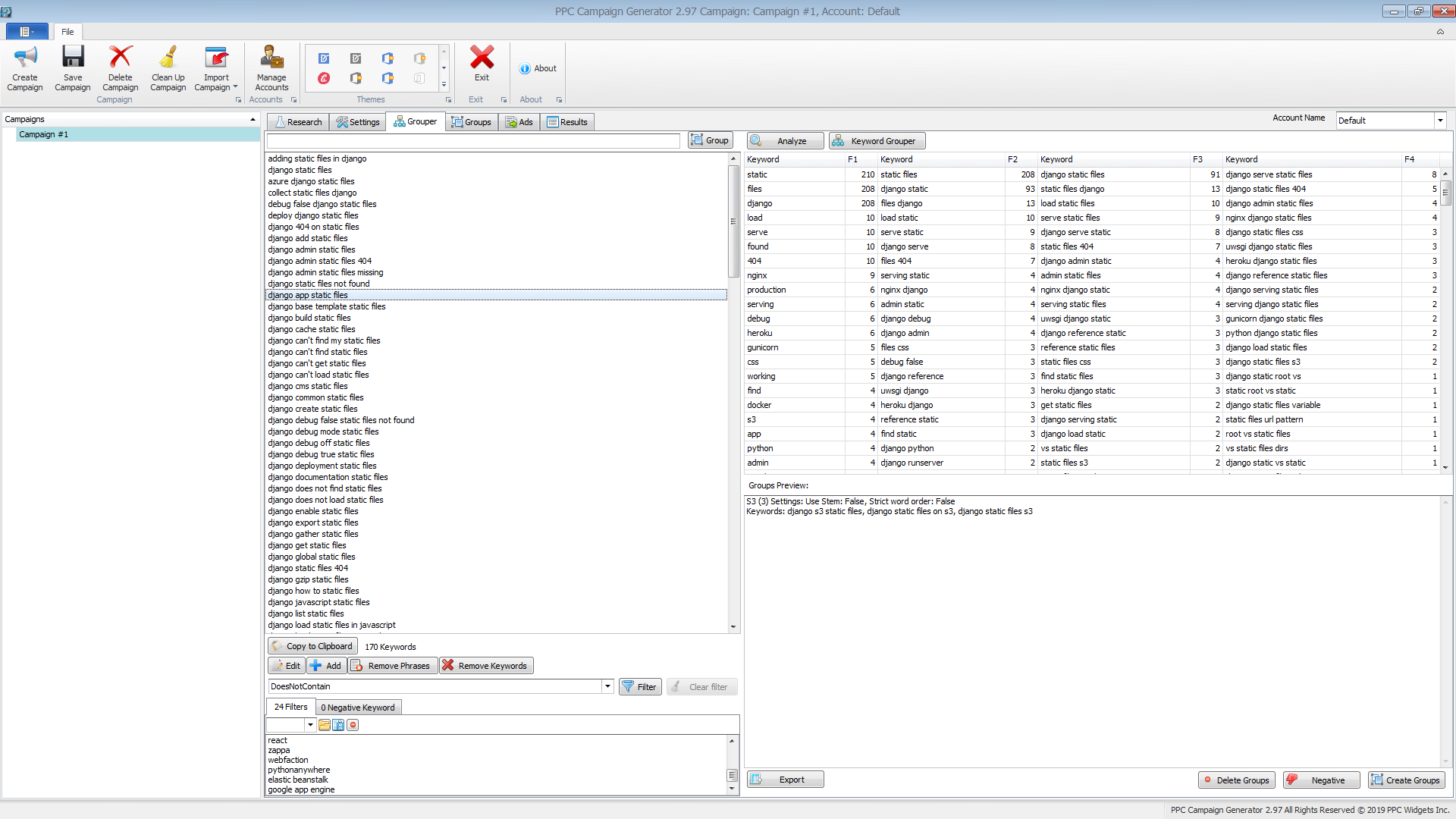 BUILD PPC CAMPAIGNS FASTER AND SMARTER
WITH PPC CAMPAIGN GENERATOR
---
PPC Campaign Generator was built around the needs of:

paid media managers that work at digital marketing agencies
business owners that want to build their own paid search campaigns
affiliate marketers that need custom URL tracking capabilities
SEO professionals because of the keyword grouping capabilities
How it works
The software has five tabs and a settings tab.
Each tab represents an important step in the campaign creation process that you would go through, regardless if you're using this program or not.
Research tab - gives you tools to generate, normalize and get keywords suggestions.
Settings tab - contains settings that you can adjust to suit your needs (keyword grouping, etc.)
Grouper tab - this is where you group your keywords
Groups tab - a refinement step for getting the ad groups the way you want
Ads tab - where you generate ads tailored to each ad group
Results tab - generates your campaign result
I really am under-selling it here on this page. If you really want to know what this software can do for you, enroll in my course, download it, and give it a try. You have nothing to lose!
With the complete training course, you will not only get to download it, but you will get my advice on how to use it to generate PPC campaigns. The training is the most exhaustive training I've done.
The goal of this software is to help you build the best paid search campaigns that get results. This software helps you achieve that by giving you the training, skills and tools needed to learn this as quick as possible.

See the FAQs below for more info.
Your Instructor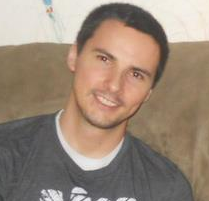 I am a Paid Search expert, Python programmer, and Data Scientist.

I worked 9+ years behind-the-scenes as the backbone of paid search for a +50 person digital marketing agency. Every day I was deep in-the-weeds solving problems, optimizing client accounts, mentoring and testing new marketing features and strategies.
At one point, the agency had onboarded far too many clients for one person to handle. My options were: work harder, or work smarter. I chose to work smarter and built several PPC desktop software programs such as: PPC Campaign Generator and Keyword Grouper.
Eventually though, not even my software or Excel was enough. That's when I bit-the-bullet and committed to learning Python Programming. Learning Python has allowed me to scale my work efficiency to completely new levels. Mundane, boring tasks can be done in minutes instead of hours or even days. In other words - it gave me super powers to do the work of 10 people, seriously.
Once I had Python skills under my belt, that opened up the world of data science and machine learning. I've built countless predictive models that allowed me to transform, aggregate and make sense out of mountains of data to make data-driven decisions.
Oh, and I also have a B.S. in Finance... complete waste of time.
Course Curriculum
Download and Install
Available in days
days after you enroll
Frequently Asked Questions
How much does PPC Campaign Generator Cost?
FREE. $0. No money. AND you get a complete course that shows you how to use it.
Will this software work on Windows 7, Windows 8 or Windows 10?
Yes. It has been tested on Windows 7 extensively. It has also been tested on Windows 8 and Windows 10 but not as extensively as Windows 7. If you notice any issues, let me know right away so I can fix them!
Is this software updated to support EXPANDED TEXT ADS?
Yes. The software is updated to allow you to create Expanded Text Ads with three headlines and two description lines..
Will this software work for Microsoft Advertising Editor (aka: Bing Ads Editor)?
Yes. You can export a CSV file from PPC Campaign Generator and import that into Microsoft Advertising Editor from file. I show you how to do this in the training course.
Does this software work for Google Ads Editor?
Yes. You can copy/paste the generated PPC Campaign from PPC Campaign Generator into Google Ads Editor using the "Paste Text" feature, OR, export a CSV file and import "From File" into Google Ads Editor. I show you how to do this inside the course.
Can PPC Campaign Generator find keyword suggestions in different languages?
Yes. PPC Campaign Generator users from around the world have confirmed this. The take-away is, whatever language your keywords are in is what will determine what type of results get returned. For example, if you use Spanish keywords, you should get Spanish keywords returned.
Do I need a license key?
No. License keys are no longer required.
Is PPC Campaign Generator available for Mac?
Unfortunately NO. PPC Campaign Generator will ONLY work for Windows operating systems.

However, I've been told by several customers that you can run a virtual environment within a Mac using software like VMware Fusion, Parallels, or Virtualbox.
What other software is required to use PPC Campaign Generator?
Google Ads Editor and Microsoft Advertising Editor (aka: Bing Ads Editor). These two softwares are free to download and are made by Google and Microsoft respectively. They allow you to make bulk changes to your accounts and post those changes to each system.
How Many Keywords can Keyword Grouper Group?
PPC Campaign Generator has several keyword grouping tools that give you manual keyword grouping and automatic keyword grouping. As general advice, PPC Campaign Generator is not suited for grouping keywords in the hundreds of thousands.

I would say, a good number of keywords that the software can handle in an efficient manner is up to 10,000 for each campaign. This is just a general opinion. The program CAN group more but it's just a matter of... the more keywords you have, the slower the program will be.
What is the current latest version?
The latest version of PPC Campaign Generator is version 2.97. It was updated on 5/30/2019.
Why are you still reading? Enroll in the course now and let's get going!