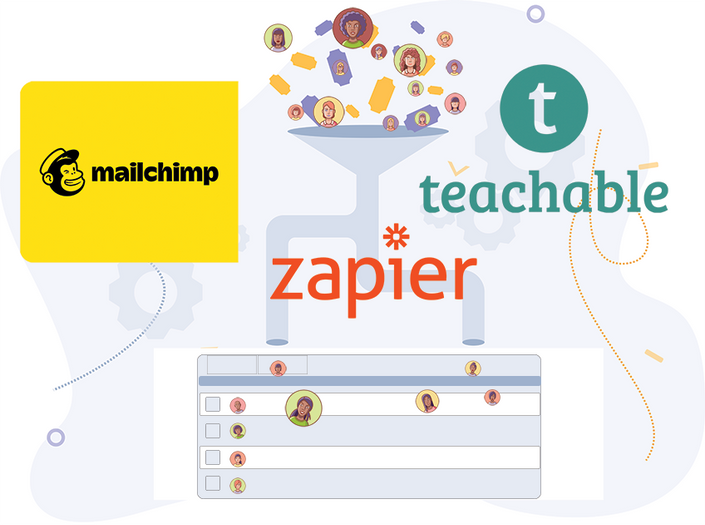 MailChimp + Teachable Integration and Tag Automation with Zapier
Automatically Tag Every Teachable Enrollment and Opt-in Within One Mailchimp Audience List
No Fluff, Guaranteed Results, To-the-point
This course shows you how to integrate MailChimp and Teachable using Zapier to automatically assign MailChimp tags to people that enroll in your courses or opt-in from Teachable embedded forms.

Problems With Out-of-the-box MailChimp Teachable Integration
When you're trying to figure out how to integrate MailChimp with Teachable, the first thing you'll probably try is the standard MailChimp integration found inside Teachable: Settings > Integrations > MailChimp. Here's the article on how to do this.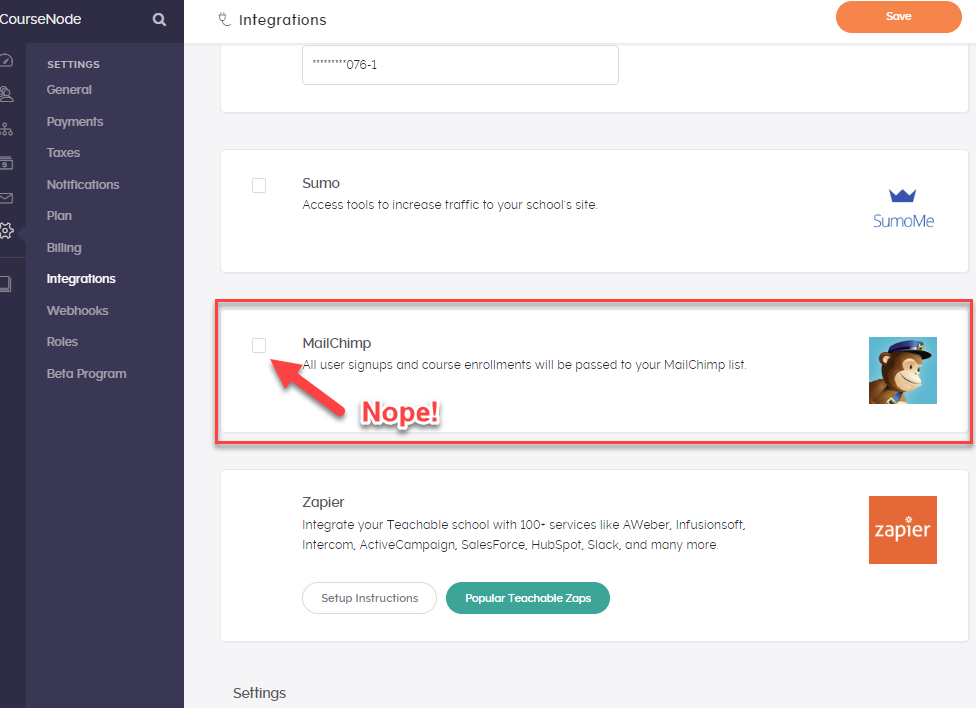 Why you Shouldn't do this
Every student that registers for your Teachable school will be added to a single MailChimp audience list¹ without any kind of tagging, grouping or segmentation.
In other words, you won't know ANYTHING about the people on your MailChimp list; They will just be an email address that registered at some point on your Teachable site. You won't know what courses they are enrolled in (if any).
This is a big problem especially for Teachable course creators that have several courses on different topics or subjects.
"If you don't know who's on your list, how are you going to send personalized relevant emails to them?"
Why not just make multiple MailChimp Audiences?
If you try this, you will be presented with a MailChimp messaging saying: "Tags might work better than a new audience. With tags you can organize your audience using any information or criteria you want."


The reasons it's not best-practice to create multiple MailChimp audiences for your Teachable school are:
MailChimp recommends you maintain only one "master" audience (list) and use tags and segments to organize and target your contacts. (source)
Audiences are independent of one another so if the same person appears in multiple MailChimp audiences, it will increase your costs.

For example, if Jane bought two courses from you, and you had two separate MailChimp audiences for these two courses, Jane will count as TWO MailChimp contacts even when she uses the same email address.

You're paying TWICE for Jane.
Creating a new MailChimp audience for everything you're doing on your Teachable site is labor-intensive and unnecessary. The headache of creating and managing multiple MailChimp lists can be avoided if you use tags.
How to Automate MailChimp Tags with Teachable
After many days of trouble-shooting and trying to figure out all of the mechanics, I finally came up with a MailChimp + Teachable + Zapier tagging solution that is mostly automated.
Zapier does cost some money to use, but in my opinion, it's well worth the cost - especially considering how much time and effort you'll save from not having to manually tag your contacts and managing spreadsheets full of email addresses.
What you'll learn in this course is not just how to add / update all Teachable enrollments to MailChimp automatically (and tag them), but you will also learn how to add Teachable lead magnet forms to your sales pages.
When someone fills out your sales page lead form, that person gets added to the same MailChimp list as all your Teachable enrollments - so ONE LIST. Not Multiple!
This is exactly what you should want. It's best-practice.
Since all your MailChimp contacts are tagged anytime they enter your audience, you can create MailChimp email automation sequences to send an instant download, PDF, ebook, or first email.
This is HUGE!
This is a fully-automated funnel. Your main job after you set this up will be to drive traffic to your Teachable site.
What Are MailChimp Tags?
Tags are simply labels.
For example, let's say you're eating lasagna. If you had to label it, you might say lasagna is: food, dinner, italian, pasta. Whether these tags are "right" or "wrong" doesn't matter because YOU get to decide how you want to define lasagna.
You can apply this same concept to your MailChimp contacts as they enroll in your courses or opt into your lead forms.
Here's a quote from the official MailChimp website:
"Tagging lets you bring your own contact structure into Mailchimp and label contacts based on data only you know about them. Tags are highly customizable, so you can create and assign them as you see fit."

So basically, tags let you internally organize the people on your list. You can assign MULTIPLE tags to a single contact.
So What Are You Waiting For?
Enroll in this quick, to-the-point course and I'll show you how to set up MailChimp, Zapier and Teachable so you can scale, automate, and focus on driving traffic.
Your Instructor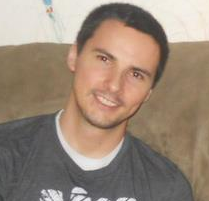 I am a Paid Search expert, Python programmer, and Data Scientist.

I worked 9+ years behind-the-scenes as the backbone of paid search for a +50 person digital marketing agency. Every day I was deep in-the-weeds solving problems, optimizing client accounts, mentoring and testing new marketing features and strategies.
At one point, the agency had onboarded far too many clients for one person to handle. My options were: work harder, or work smarter. I chose to work smarter and built several PPC desktop software programs such as: PPC Campaign Generator and Keyword Grouper.
Eventually though, not even my software or Excel was enough. That's when I bit-the-bullet and committed to learning Python Programming. Learning Python has allowed me to scale my work efficiency to completely new levels. Mundane, boring tasks can be done in minutes instead of hours or even days. In other words - it gave me super powers to do the work of 10 people, seriously.
Once I had Python skills under my belt, that opened up the world of data science and machine learning. I've built countless predictive models that allowed me to transform, aggregate and make sense out of mountains of data to make data-driven decisions.
Oh, and I also have a B.S. in Finance... complete waste of time.
Frequently Asked Questions
When does the course start and finish?
The course starts now and never ends! It is a completely self-paced online course - you decide when you start and when you finish.
How long do I have access to the course?
How does lifetime access sound? After enrolling, you have unlimited access to this course for as long as you like - across any and all devices you own.
What if I am unhappy with the course?
We would never want you to be unhappy! If you are unsatisfied with your purchase, contact us in the first 30 days and we will give you a full refund.
1. Unless the student opts out of your marketing emails during registration.