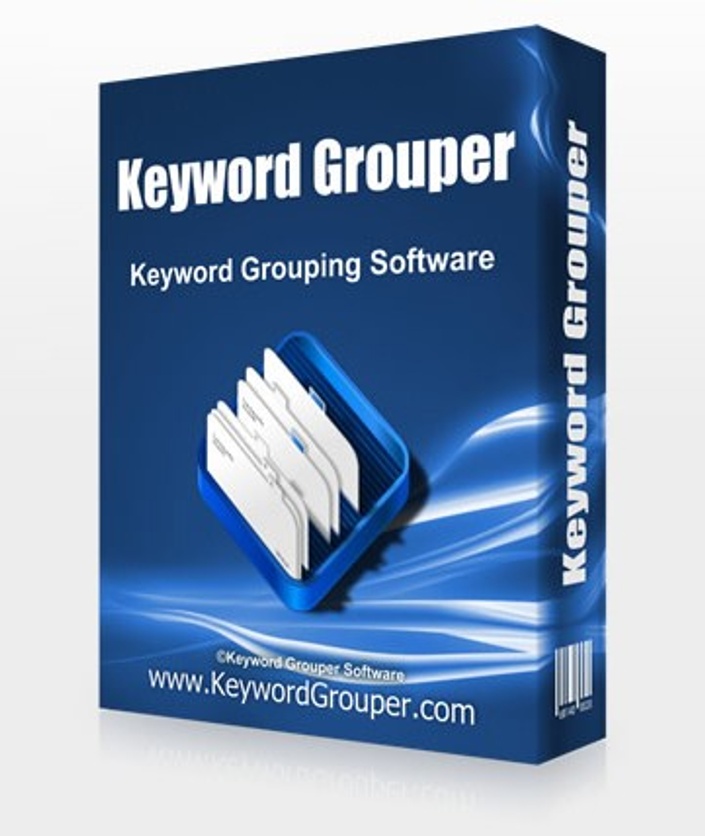 Keyword Grouper Software
Automatic Keyword Grouping Software<br>for Windows
Keyword Grouping Software that Helps you to Group Keywords Automatically
---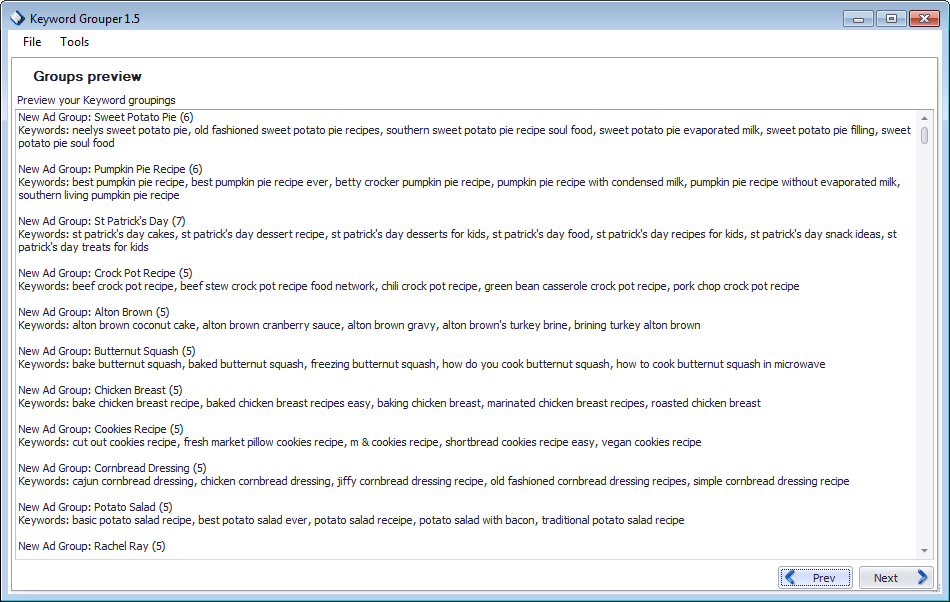 Say goodbye to wasting hours grouping keywords by hand. With this software, you can copy your keyword list, paste it into the program, set a few settings, and press the Group button. It's that simple! Ideal for PPC and SEO Professionals.
Group Thousands of Keywords at a Time!
Exports in 9 different file formats (.CSV, .XLSX, .XLS, .HTML, .PDF, and more)
Set the minimum number of keywords threshold needed to create a group
Merge singular and plural words (English only)
Set strict word order or any word order
Analyze 1-5 word keyword phrases (keyword density analysis)
What is Keyword Grouper?
Keyword Grouper is a Microsoft Windows-based keyword grouping software tool that SEOs and Paid Search marketers use to group small to medium-sized lists of keywords automatically.
Keyword Grouper allows you balance getting too general or granular with your keyword groups by giving you several manual settings and options.
Within Keyword Grouper, YOU define the minimum number of keywords per group, whether to merge singular and plural keywords together, whether strict word order is important, and more. The software generates common themes based on your keyword settings using an advanced algorithm.
Keyword Grouper Software Benefits

Automatic keyword grouping with flexible manual controls
Save hours of time sorting and sifting through keywords manually
You get good results (not always perfect)
Affordable for everyone
One-time payment, and you own it - no subscriptions
Generate PPC campaign structures quickly and easily imports into Google Ads Editor
Generate SEO content strategies built around small clusters of keywords
Keyword Grouper Software Features
Set the minimum number of keywords per group
Merge singular and plural keyword groups
Set strict word order or choose any word order
Keyword density analysis for 1 – 5 word phrases
Export grouping results in .CSV format
Group each keyword into its own group
Set broad, phrase and exact match types
Generate common themes automatically
Optional Manual keyword grouping
Preview results before grouping
Define campaign name (optional)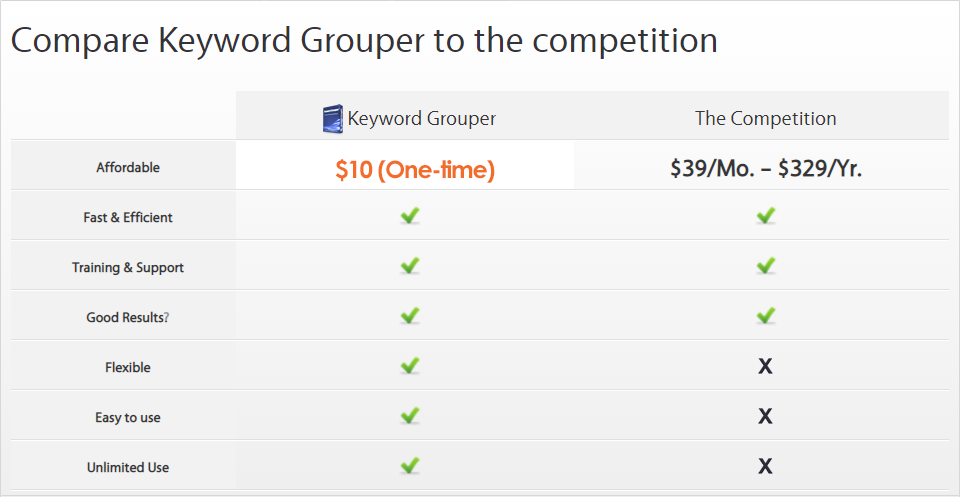 Keyword Grouper Software beats the competition hands-down on affordability, flexibility, usability and overall value. Don't wait - Enroll Now for Only $10 and download!
For an in-depth tutorial on every feature, see our post here about Keyword Grouper software.
Your Instructor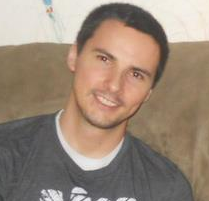 I am a Paid Search expert, Python programmer, and Data Scientist.

I worked 9+ years behind-the-scenes as the backbone of paid search for a +50 person digital marketing agency. Every day I was deep in-the-weeds solving problems, optimizing client accounts, mentoring and testing new marketing features and strategies.
At one point, the agency had onboarded far too many clients for one person to handle. My options were: work harder, or work smarter. I chose to work smarter and built several PPC desktop software programs such as: PPC Campaign Generator and Keyword Grouper.
Eventually though, not even my software or Excel was enough. That's when I bit-the-bullet and committed to learning Python Programming. Learning Python has allowed me to scale my work efficiency to completely new levels. Mundane, boring tasks can be done in minutes instead of hours or even days. In other words - it gave me super powers to do the work of 10 people, seriously.
Once I had Python skills under my belt, that opened up the world of data science and machine learning. I've built countless predictive models that allowed me to transform, aggregate and make sense out of mountains of data to make data-driven decisions.
Oh, and I also have a B.S. in Finance... complete waste of time.
Course Curriculum
Keyword Grouper
Available in days
days after you enroll
Frequently Asked Questions
Is Keyword Grouper available for Mac?
Unfortunately no. There hasn't been enough demand to justify the creation of a Mac version of Keyword Grouper. If demand changes, then we will consider it. You can however run a virtual environment within a Mac machine using software such as VMware Fusion, Parallels, or Virtualbox.
How Many Keywords Can Keyword Grouper Group?
This software is not super-efficient. In other words, it's somewhat slow. I've heard of people grouping hundreds of thousands of keywords but this tool is not equipped for it (it takes a long time).

A good amount of keywords to group at a time is in the 10,000 range or less. It can group more but the results probably won't be what you're hoping for, and it will take a long time.
I Want to Group Over 50,000 Keywords. Is Keyword Grouper Right for Me?
If you don't mind waiting an hour, then yes. Otherwise, no. The amount of keywords you have, the exponentially longer the time it takes.
Program looks like it dies after clicking the "Generate Common Themes" button.
When Keyword Grouper goes into this state, it doesn't mean the program has died or stopped working (even though every indication says it has). It's still running and processing your data and eventually will come out of this coma-like state. This happens when you have a lot of keywords to process. Just give it time to process your data.
Keyword Grouper results tab is blank
Make sure to check your keyword match type settings and make sure you have at least 1 of the 3 checkboxes checked (Broad, Phrase or Exact). This is a bug.
After pressing "Generate Common Themes" button, the program throws an error
This is a question I get all the time. Keyword Grouper is not "smart" enough to know how to handle certain characters such as open and closed parenthesis. The program thinks it's code or something is my best guess. Clean your keyword list first to remove brackets, braces or any characters that might be interpreted as code.